Latest Message (September 27) — Thank you for participating in the HS Civic Week of Action. Keep the momentum going and get out the vote this election! I will be sending a couple messages in October to remind you of important dates and information. Don't forget that people must be registered before the state-specific deadline!
July The Vote
Infographics and resources that educate and foster dialogue about civic engagement
Text @julyvote to 81010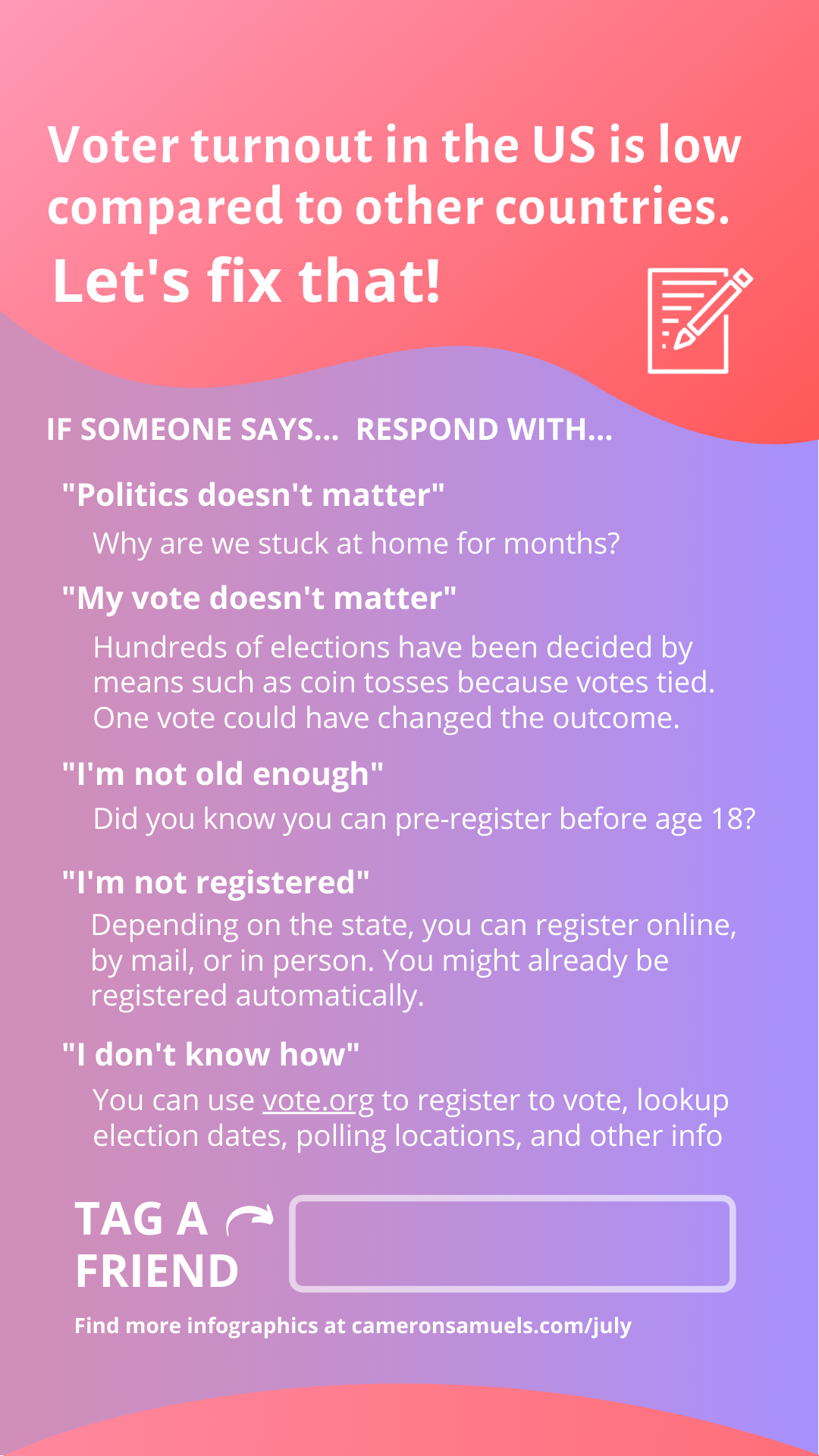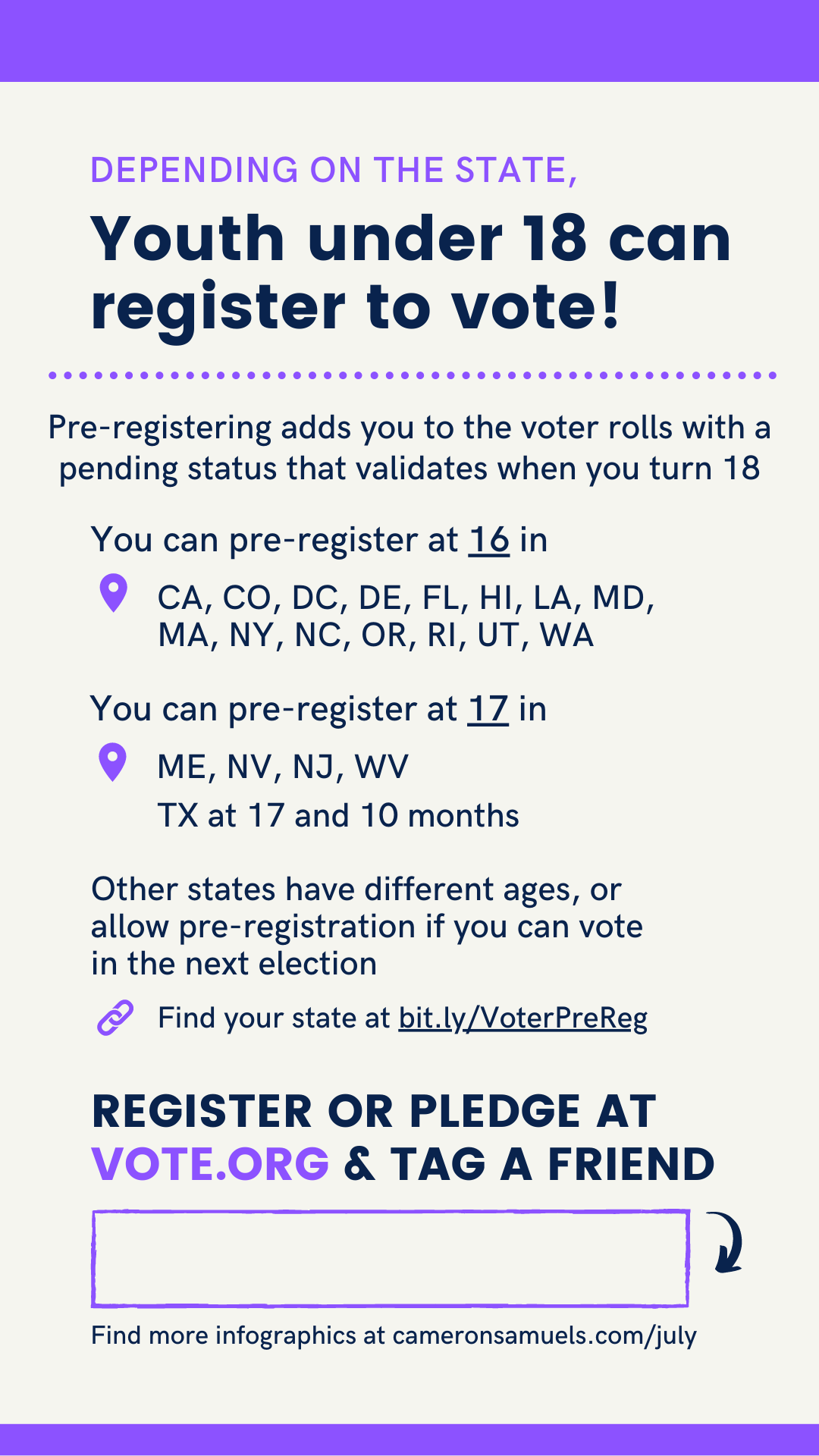 Civic Week of Action (2020)
September 27 Thank you for participating in the HS Civic Week of Action. Keep the momentum going and get out the vote this election! I will be sending a couple messages in October to remind you of important dates and information. Don't forget that people must be registered before the state-specific deadline!
September 26 People are far more likely to vote if someone they know encourages them to, a concept known as relational organizing. Posting on social media can definitely spread the word, but having a conversation with a friend could actually get them out to vote. On an iPhone, you can click here to use an SMS template to get started: plantwovote.com/sms
September 25 Check out Gerry Posts, an online website I created that allows you to design a social media graphic using the Ugly Gerry font made from congressional districts. Create one and share it to spread the word about unfair gerrymandering and the importance of voting cameronsamuels.com/gerry
September 24 Voting by mail is an accessible and convenient way to vote, and it is also a no-risk method of voting during this pandemic. However, 92,000 mail ballots were tossed in 2016 due to mismatched signatures according to the Election Assistance Commission, raising concerns about disenfranchisement. Make sure your signature matches the one on record! You have also probably heard the chatter about the USPS and security of mail-in ballots, but did you know you may be able to drop-off your ballot in-person to ensure it gets counted? bit.ly/3iRVAsk
September 23 Making a voting plan is crucial to prepare yourself for taking the time and effort to vote. You can use the "Plan Two Vote" interactive checklist I created to make your voting plan in just two minutes plantwovote.com
September 22 Today is National Voter Registration Day! You have probably heard the phrase "register to vote" thrown around recently, but have you been asked to verify your registration? Ensure that your registration is active with your current legal name and residential address, and encourage your friends to do the same bit.ly/32Mpys4
September 21 The COVID-19 pandemic has undeniably presented problems that could affect the election this year, and one of them is with election clerks. Pew Research found that the majority of poll workers in 2016 were above the age of 60, meaning there will likely be a shortage this year due to health concerns. If polling stations are understaffed, they will have long wait times or be forced to close. Becoming a Student Election Clerk is a great way for people under the age of 18 to help in the democratic process (and most of the time it's paid!). Get started at bit.ly/3cjO1Iy
September 20 Hello everyone! We are now within 45 days of the election, and there is so much we need to do before then. Get you and your friends ready to vote by staying tuned this week for a Civic Week of Action.
July The Vote (2020)
August 1 Relational organizing is a highly effective organizing style that consists of reaching out to people you know to get them registered to vote and to make a voting plan. Now take this challenge: set a goal for how many voters you want to get out this election. July The Vote will return in September for a check-in on your goal and a continuation of messages relating to important dates and information.
July 31 In the 2017 election for a Virginia House seat, the vote was tied and therefore decided by a random selection from a bowl. Not only did the incumbent win, but the house remained 51-49 with a Republican majority. Every vote makes a difference and has the power to flip an entire government. You can view a list of worldwide tied/close elections on Wikipedia at bit.ly/3fjoNd3
July 30 Youth turnout in Texas for voters aged 18-30 was up by more than 500% in the 2018 election compared to the last midterm election in 2014 according to the Houston Chronicle. Similar trends were present in other states as well. However, youth turnout has not been high in recent decades. Learn why from Tufts at bit.ly/3f64Ypw
July 29 The 2018 election was the first time since 1982 that a midterm election turned out more than 50% of the voting age population. Learn from the Census Bureau about the demographics of the increased voters at bit.ly/31KpfOx
July 28 Only 55% of the voting-age population voted in 2016, ranking the United States 26 in voter turnout among 32 countries in the OECD. Find and share today's infographic at cameronsamuels.com/july, and learn more from Pew Research at pewrsr.ch/2P25Lxh
July 27 Voting is mandatory in roughly 1 in 10 countries through a concept called compulsory voting that aims to increase participation in democracy. While it does increase voter turnout, it is often not enforced. Some say it legitimizes the outcome to represent everyone, but others point out that random or uninformed votes increase. Learn more from the International IDEA at bit.ly/3hHgrxE
July 26 Automatic voter registration has voter rolls continuously updated or added to when people interact with government agencies such as the DMV when issuing a driver's license. Because data becomes digital, this saves money, paper, and time, and it increases accuracy and accessibility. Learn more from the Brennan Center at bit.ly/2WV6DI4
July 25 The voting age varies by country, and there are several that allow citizens to vote at age 16 and 17. You can learn more from BatchGeo at bit.ly/3eZudKb. What do you think about voting before the age of 18? Submit a response and see what others in July The Vote think about the voting age at cameronsamuels.com/july/25
July 24 The voting age was historically 21 until young people spoke out and took action throughout the 20th century, leading to the passage of the 26th amendment that lowered the age to 18. Learn more from the History Channel at bit.ly/30Mu5bB
July 23 Did you know you can pre-register to vote as early as 16-years-old? Find and share today's infographic at cameronsamuels.com/july, and lookup your state's pre-registration age requirement at bit.ly/voterprereg
July 22 Ugly Gerry is a font created by congressional districts. You can download the font to use, or you can share it to promote the absurdity of gerrymandering. Check it out at bit.ly/3g4fFKJ and follow their Twitter @uglygerry
July 21 The ReDistricting Game is a fun and interactive 5-level game that you can play to educate yourself on gerrymandering. You will learn about population equality among districts, partisan and bipartisan gerrymandering, the voting rights act, and reforming the redistricting process. Start playing now at bit.ly/32H8bte and make sure to check out the other resources on their website.
July 20 Gerrymandering often consists of districts that span across multiple cities, or districts that encompass distinct changes in population density (rural and urban), racial composition, or income levels. Just think: can one person adequately represent the needs of everyone in the district? Check out the "Atlas of Redistricting" by FiveThirtyEight which allows you to see the racial composition of each district, understand the partisan politics behind current districts, and play around with hypothetical redistricting 53eig.ht/2CMdixb
July 19 State legislatures are responsible for redistricting in 35 states, providing a large potential for incumbent politicians to benefit themselves over the people they represent. Independent commissions that draw the lines of political districts without influence from the greedy interests of legislators could be a solution. However, opposition to these commissions include the inability to hold them accountable as you cannot "vote them out" if they misbehave. Learn more from Ballotpedia at bit.ly/3hdq3zM
July 18 The task of redistricting is up to or appointed by state legislatures following the completion of the census taken at the beginning of each decade (i.e. this year!). There are many different concepts and methods to consider when redrawing these districts, and we must understand them before diving deeper into the problems and solutions of gerrymandering. Learn from Ballotpedia about redistricting at bit.ly/2Wxs2ah
July 17 A concept called "gerrymandering" allows politicians to choose their voters, making it harder for voters to choose their politicians. The term "Gerry-mander" was coined by the Boston Gazette in a satirical cartoon when MA Governor Elbridge Gerry redistricted the state senate in 1812 to benefit the Democratic-Republican Party, in which a district resembled a mythical salamander. Modern-day gerrymandering to benefit a specific party occurs in so many places across the country, and it is a cruel form of voter suppression that devalues the voices of democracy. Find and share today's infographic at cameronsamuels.com/july, and learn more from RepresentUs at bit.ly/2ZExiuQ
July 16 More than 15 million eligible voters did not vote in 2016 because they did not have transportation to the polls. Among these are the elderly, people of different abilities, and people without personal transportation. As part of their LyftUp campaign, the rideshare service Lyft is offering free and discounted rides to the polls this year, expanding upon their 2018 campaign. Learn more from their blog post at lft.to/3eCa64k, and search up the partnering organizations to support them.
July 15 The voting eligible population includes 35 million people with disabilities (AAPD), but only 40% of polling places accommodate people of different abilities (ACLU). This week is the AAPD's National Disability Voter Registration Week, and you can learn more about their voting campaign at bit.ly/3iMCHay
July 14 America is changing, and the electoral college does not have the same effect anymore. Out of the last three presidents (Donald Trump, Barack Obama, and George W. Bush), Obama was the only one to win the popular vote. Check out this Instagram post by So You Want To Talk About that discusses the Electoral College bit.ly/2ZpNvDY — Minor retraction/clarification: George W. Bush lost the popular vote in 2000 but won the popular vote in 2004.
July 13 Elections take place to fill many different positions of public office. Among these are representatives and senators who take office at either a federal or state level to create and enact legislation. Lookup your congressional representative (by address) at bit.ly/3fipnsp and your senators (by state) at bit.ly/3egW1Ju (hint: your representative is up for reelection this November, and this may also be the case for your senators)
July 12 Elections are not just a one-time event that takes place in November. A single election cycle could include many elections. Find today's infographic at cameronsamuels.com/july to learn the common types of elections, and visit vote.org/election-reminders to receive updates on elections in your area.
July 11 Many blue collar workers are unable to vote on Election Day due to their work shifts, discouraging voter participation among people who may in turn become even more disadvantaged without their voice being heard. Although making Election Day a federal holiday produces many benefits, it also presents issues stemming from the root of the problem. Read this brief summary about Election Day and compare the pros and cons at bit.ly/3fw9i28
July 10 Absentee ballots allow people to vote without being present at an in-person polling center. All states provide mail-in ballots upon request, but some require an excuse. There are many advantages to offering mail-in voting, but there are a couple considerations to account for as well. Learn about and check your state's rules regarding absentee ballots from NCSL at bit.ly/2BVcfei
July 9 In 2018, 40% of people casted their ballots before Election Day via alternate voting methods, according to the US Census Bureau. Let's break down the advantages of voting early. Find and share today's infographic at cameronsamuels.com/july
July 8 Online voter registration can save time during busy working schedules and encourage voter participation. Unfortunately, 11 states do not offer online registration despite it being more secure and cost efficient. In Arizona, each paper registration costs 83 cents while online registration is just 3 cents each. Learn more from NCSL at bit.ly/3iIPL0s and check out their additional resources.
July 7 22 million Americans (11%) do not have any government-issued photo ID, which a select few ID's are required to vote in many states. Learn more with this fact sheet from ACLU at bit.ly/31DhEB7 and read this article by the Washington Post about personal experiences in 2016 at wapo.st/2ZE6Ksm
July 6 Voter suppression takes many forms, and it immensely affects the outcome of elections by unjustly disenfranchising Americans. This infographic will teach you the basics, so check it out and share at cameronsamuels.com/july. You can learn more from ACLU at bit.ly/3gjuhFL
July 5 Take a look at this article from USA Today that discusses the historical and ongoing suppression of Black Americans in government and voting (there is no infographic today) bit.ly/3gknmMf
July 4 Happy Fourth! Although most Americans take pride in our ability to self-govern, many overlook the centuries-long disenfranchisement of BIPOC that leaves them underrepresented in places such as voting and government. If you identify as white, reflect upon how your voice may be heard above others in these spaces and how you can change this on an individual level.
July 3 Did you know voters must be registered to vote before a state-specific deadline? Find your deadline at vote.org/voter-registration-deadlines
July 1-2 Thanks for joining July The Vote! Each day this month, an infographic or resource will be sent out. We'll learn about voter suppression, alternate ways to vote, elected government, gerrymandering, teen civic engagement, and ending the month with voter turnout. I encourage you each day to post the infographics on your social media story and take at least 10 minutes to read into and utilize the resources. Hope you enjoy! Text @julyvote to 81010 to receive the daily messages.
About July The Vote was created by Cameron Samuels for the RAC Teen Justice Fellowship and Civic Engagement Campaign. Check out the GitHub Source Code for the website.